Assalamualaikum,
So this post is too shed a light on a common yet unnnoticed mistake that we make when we're speaking English. I know my English is NOT that good but hey, I'm just sharing. So to any future haters..
Kiss my ass!
One of the favorite snacks that we People-Who-Want-To-Look-All-Civilised-And-Modernish like to eat is if i'm not mistaken is this stuff.
WAIITT! Before I get to my point..try saying the word waffle..
Say..
One more time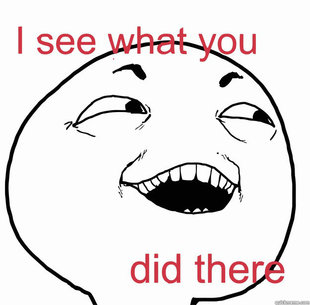 Yeah thanks for noticing what i did meme.. So now lets take a few moments to think..
HOW DID YOU PRONOUNCE THE WORD WAFFLE?
(bold,centered and colored red just so ignorant people would pay attention)
Okay firstly, i got no beef against waffles, they're cool! They're all delicious and yummy and all. And I'm also not against the people who likes to eat waffles. But what I'm kind of keen of correcting is the way you say the word.
Ali : weyh, jowm kitew gie mamam wayfel,lapar arhh..
Abu : Jowm arhhh...kitew mkn wayfel!
(sengaja guna bahasa rempit because rempits are the minority part of this nation that always seem to make this mistake and mess everything that is cool.. e.g Supra, Facebook and Skinny Jeans)
Wayfel
Wayfel
Its pronounced as
wafel
for Gods sake.
Still don't know how to say it?
to Muslims, remember the letter 'wa'?
pronounce a 'wa' baris atas (wa) and connect it to -fel = wa-fel
Still don't get it yet?
Go to a school and ask an English teacher
Or learn it the TADIKA wayy! WITH MUSIC AND VIDEO!
watch this! :)
Hope you've enjoyed learning
And I hope I've enlightened your mind
(but most probably you don't give a shiz :-))